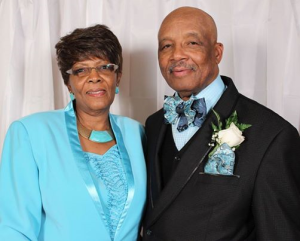 Elder Lorenzo Edge & Lady Annie Edge
Elder Lorenzo Edge was born and raised in the Old Town Community of Winnabow, NC. He has been a resident of Wilmington, NC for over 35 years. He was recognized early in his life as a chosen vessel, with unusual abilities and was destined by God to be a leader. He attended Brunswick County public schools and is a graduate of Brunswick County Training School located in Southport, NC. He attended Hampton, VA Community College located in Newport News, VA where he received several certificates in shipbuilding.
Elder Edge received Christ as his Savior at an early age at Moore's Chapel AMEZ Church located in Winnabow, NC. He joined Faith Temple Church of God In Christ in Wilmington, NC in 1977, where he received the gift of the Holy Spirit under the leadership of the late Bishop C.E. Anderson, Sr.
Under the tutelage of the late Bishop C.E. Anderson he was taught how to be a church administrator. He served faithfully as a Deacon, Chairman of the Trustee Board, Sunday School teacher, and Prayer and Bible Band teacher for over twenty years. He accepted the call of ministry in September 2003 and was ordained as an Elder in the Church of God in Christ in July 2004. He was appointed Pastor of Faith Temple Church of God In Christ in February 2013 under the leadership of interim jurisdictional and General Board member Bishop Jerry L. Macklin.
His calling is not a fabrication and it is not an hallucination of the Holy Ghost's status in his life. He is a pastor that believes that God can and will make a difference in your life if you will allow him to do so.  
Elder Edge is retired from the Wilmington Fire Department where he was employed for over 33 years as a Firefighter and Assistant Chief.
He is married to his lovely wife of 40+ years Missionary Annie Edge. They have four children; three sons and one daughter.